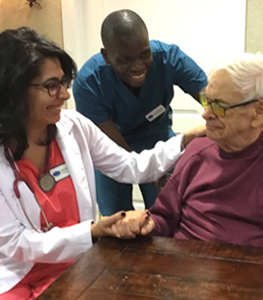 How amazing to realize that over 20 years ago The 80th Street Residence began its journey using an unprecedented concept in both its physical and operational design in an effort to provide a comfortable environment for individuals suffering from dementia. While over the years our furnishings, styles and colors have changed, the core element of our identity remains the same – embracing the household model.
Here at 80th Street, each of our floors is a neighborhood, with 8-10 Residents living together while receiving the support of our specially trained dementia caregivers both day and night. We refer to these incredible people as our Care Managers and know that they make a difference in each Resident's life every day. The physical layout of each neighborhood is purposefully designed with familiar rooms as found in one's home - kitchen, dining room and living room. Each are easily accessible for our Residents and actually become a hub of activity and life. The design elements of these spaces successfully promote socialization, relationship building and independence while also normalizing daily life with the regular use of these familiar spaces.
The household model truly holds many benefits when caring for individuals who suffer from varying forms of dementia. For some families, it may be difficult to visualize living in such an intimate environment. However, we know that grand and luxurious environments do not necessarily translate well into the life of someone with dementia. Our environment has shown us time and time again how it helps our Residents live with their dementia.
For instance, our Neighborhoods:
Offer many more opportunities to support person-centered care, Residents' self-esteem and their ability to be autonomous
Minimize overstimulation which may increase anxiety, depression and stress
Promote familiarity by reducing the feeling of being overwhelmed or uncertain
Promote socialization which combats the negative effects of loneliness on both health and well-being
With all neighborhoods modeled similarly, should the time come when a Resident needs more support, the transition of moving to another floor with increased staff is fairly seamless. The environment is already familiar to them, reducing the potential stress of a change. In addition, being a rather small community, our Care Managers get to know each Resident no matter the neighborhood they call home.
Accommodations at 80th Street
The 80th Street Residence has a number of accommodations to fit our Residents' preferences. Whether looking for a deluxe room offering more personal space for lounging, for an intimately sized room offering "just enough" or for a companion room offering more socialization with a roommate (not to mention a cost savings), we find a room that suits everyone's style.
Most importantly, while all rooms do come fully furnished, we find it extremely beneficial to bring some of their cherished or sentimental items from home. Doing so is yet another way that we help them find comfort and belonging at 80th Street.
Call: (212) 717-8888
We are here to help

Contact Us